Tapiolan Feenix consists of a combination of two tower blocks and one lower building, where new luxury apartments and retail premises will be built. The complex also includes a parking company. Feenix rises on its own plot. The first tower building Tulilintu is now complete and ready to be moved into.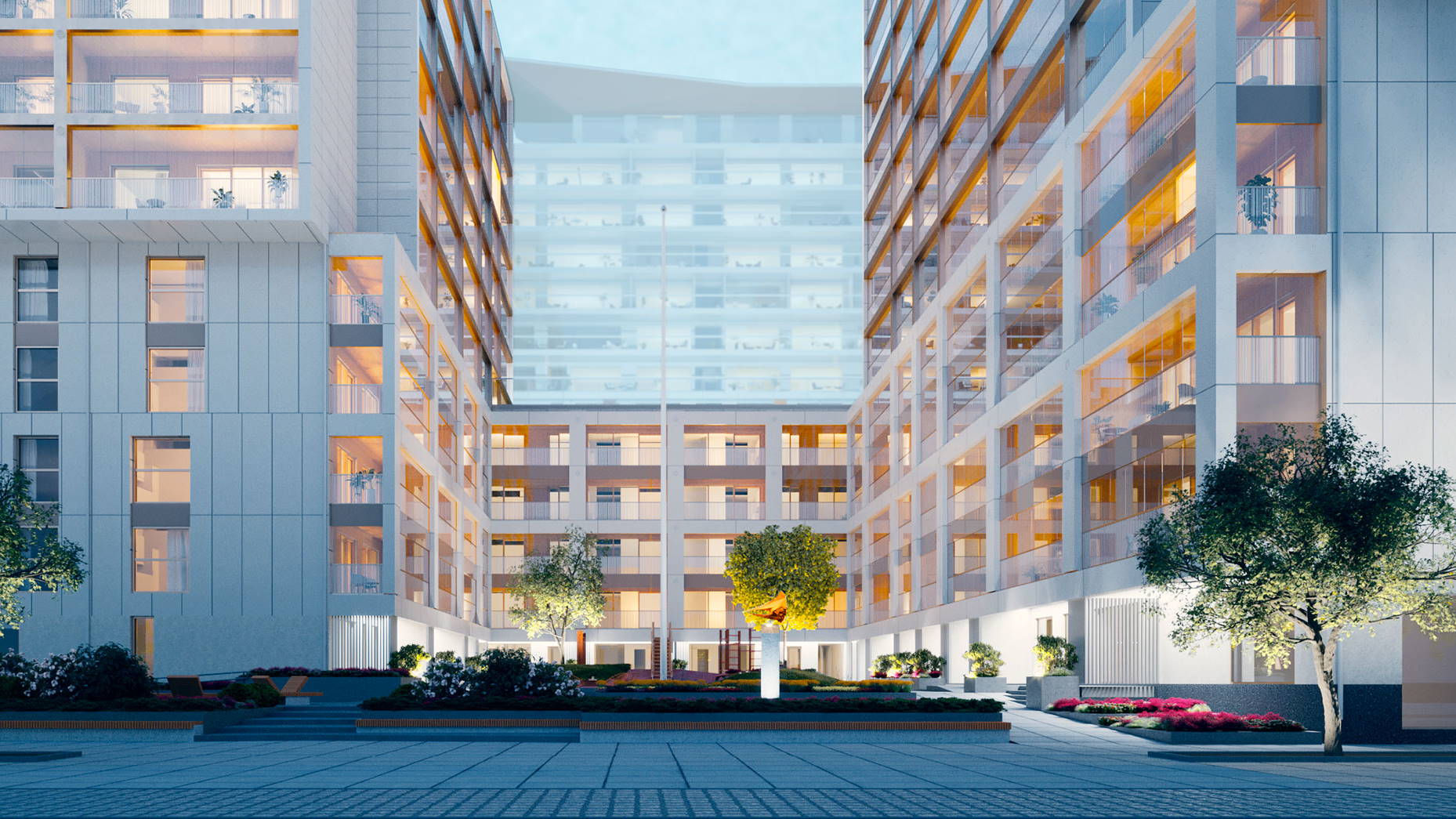 This image is a visualisation. Changes may apply.
Feenix is located in Tapiola, Espoo, right in the heart of the pedestrian center. Maritime Espoo is part of the Helsinki metropolitan area next to Helsinki. Services, restaurants, shopping, cultural offerings and outdoor areas can be found almost at the front door. Tapiola is a major transport hub with metro stations and bus terminals. They are located right next to the courtyard of Feenix, as is the shopping center Ainoa with its wide range of services. You can reach the center of Helsinki in less than 15 minutes by metro and the Aalto University campus in Otaniemi in 2 minutes.
Kultahöyhen
Tapiolan Feenix Asunto Oy Espoon Kultahöyhen is now for sale. The new house Kultahöyhen will have 86 wonderfully equipped apartments and will contain a separate parking company. The estimated time of completion is in March, 2024.
Kultahöyhen has a diverse selection of apartment floors, from efficient studios to large apartments with up to four bedrooms. The entrance hall has a view of the stone garden outside, with beautiful plantings planned to its decoration. Kultahöyhen has two elevators, one of which is a scenic elevator.
Apartment reservation request
After sending the reservation request, the Jealha Homes Sales will contact you and tell you the reservation status of the apartment and you can confirm the reservation. Reserving an apartment is not yet binding as regards the deal.
Buying an apartment
It is possible to agree on the apartment sale now after the sale has started. Deeds of sale are signed at Jealha Homes Sales or via the electronic signature service. Before the sales deal is finalised, you will receive the deed of sale and all documents affecting the transaction to familiarize yourself with. The purchase price is due for payment in the installments indicated in the price list and in the deed of sale, according to the object´s degree of completion.
Welcome
Welcome to get to know Asunto Oy Espoo's Kultahöyhen plans in Jealhas Homes sales at Itätuulenkuja 10 A. Homes sales is open by agreement. Contact our homes sales team and arrange your own presentation time.
Model apartment
A beautiful, pre-furnished model apartment of 111 m² is in the Tulilintu tower block. Check out the model apartment and come for a  visit! You can make an appointment with the sales manager Taru Fallström taru.fallstrom@jealha.fi.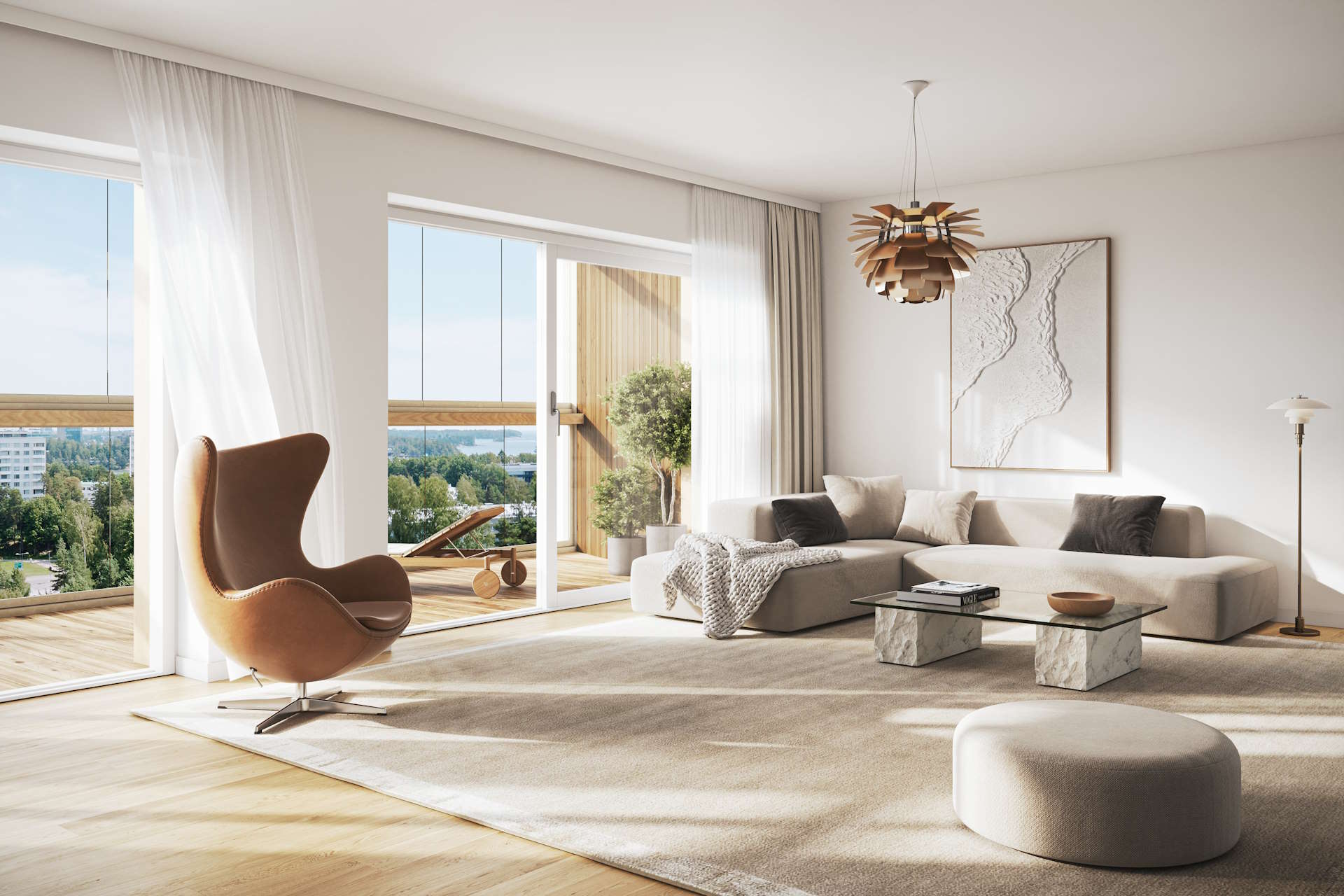 This image of Kultahöyhen's apartment C193 (174 m², 12th floor) is a visualisation. Changes may apply.
Tulilintu
Asunto Oy Espoon Tulilintu has a total of 78 apartments on twelve floors. The living areas of the apartments extend to spacious glazed balconies. Pleasant water-circulating underfloor heating ensures comfortable living. 
The Tulilintu is now for sale. Contact our home sales to find out more about our vacant homes.
Aurinkosiipi
A total of 32 new residential apartments, retail space and warehouses on five floors will be built in Asunto Oy Espoon Aurinkosiipi, which will be built between the tower buildings. The apartments range in size from 36 to 68.5 m². On the roof of the Aurinkosiipi is the Common Garden, where you can spend time with family and friends.
The first tower building Tulilintu is complete and ready to be moved into.
Common spaces
Between the buildings is a courtyard where a unique bronze sculpture is placed. The sculpture was designed by the internationally acclaimed Finnish artist Björn Weckström.
The apartments in the tower houses are accessible from the elegant lobbies by two adjoining lifts, one of which is a landscape lift. Residents will also have access to e.g. house saunas, laundry and bicycle storage.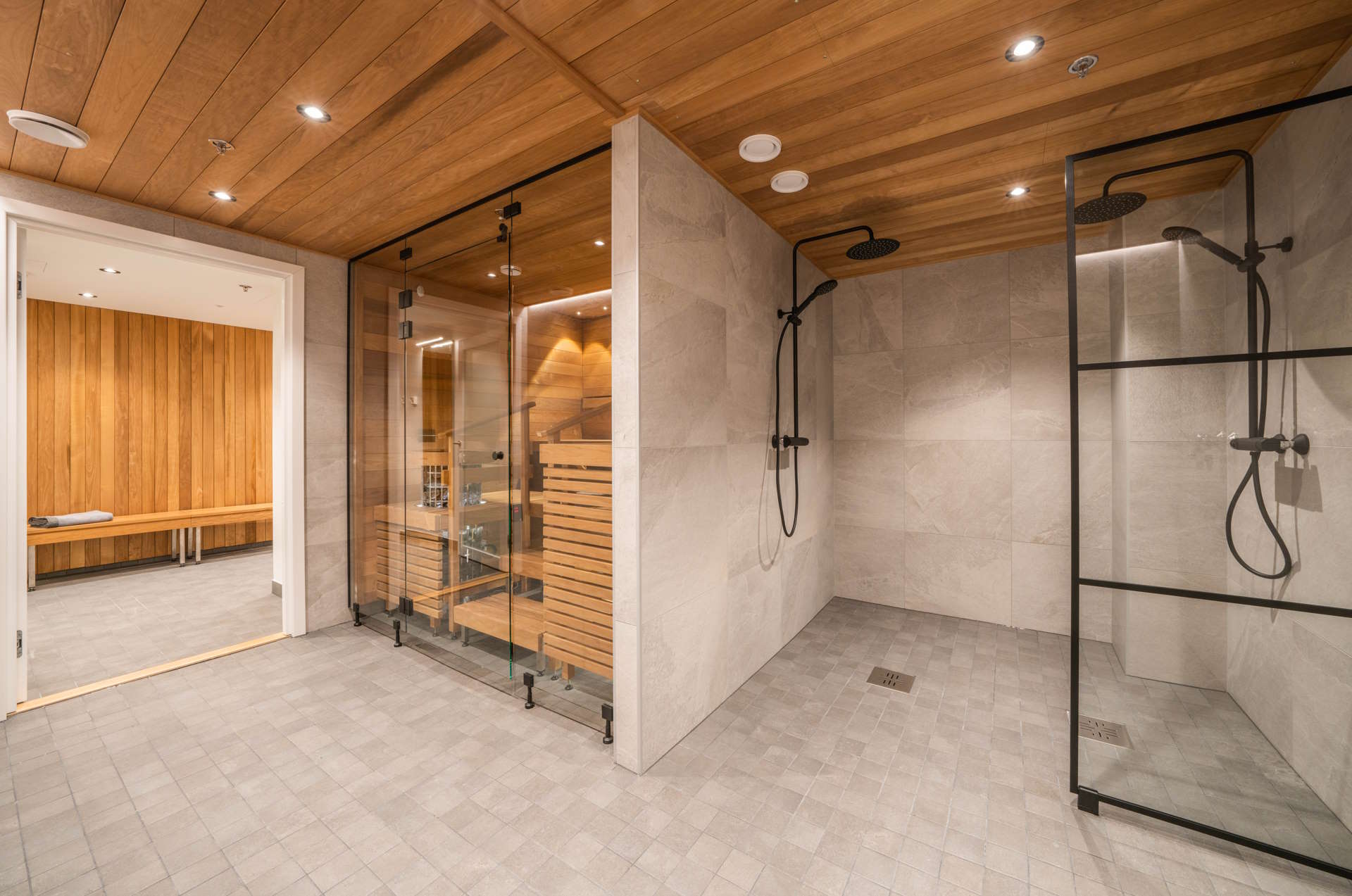 This house sauna in Tulilintu is called Roihu.
Parking spaces and additional storage
The parking spaces will be located in a separate parking company located in two basements. The parking spaces in the company are sold as individual shares. A direct barrier-free lift and internal staircase connection leads to the parking garage from the stairwell.
Each residential apartment has also a private storage room. In addition, the company has additional storage rooms, which will be sold as individual shares.
Builder
Jealha Oy is a family business that has built hundreds of apartments since 2011. In its daily operations, the company takes into account the energy and material efficiency of construction and wants to contribute being a pioneer in sustainable construction that values the environment. The company does not engage in so-called mass production of housing, but implement the projects individually and one at a time.